Pilots will be wearing long sleeve khaki flight suits.
Suits may be poly/cotton or nomex. We will be having the brown stripe on the leg up to the waist. Menís suits are available here:
BDU.com
(mens sizes in Nomex)
Menís and womenís flight suits can be found here:
FlightSuits.com
(Contact them to see what they might have in clearance)
Military Style
CWU-27/P (mens size only) or
FSL-27/P
Note: For the larger members of the unit that are having difficulty finding flight suits in their size, there is this alternative. It is to be used sparingly, and will require approval. Please consult with the Command Staff before going this route:
Wing Patch
Found at Michaelís arts and crafts. It is in a value pack of 7 military type patches. Item number AP13117-123. Pack is $5.49. This is the only authorized wing patch and it must be on the uniform.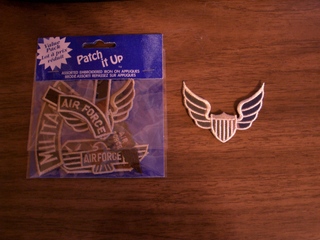 Leg Stripe
You will need to paint the brown leg stripe. Use DecoArt SoSoft Fabric Paint in Dark chocolate.
Attempts to sew the ribbon to the legs were not successful due to pocket placement and general difficulty in sewing to the Nomex.
Boots
The same rules apply as for other Specialties.
Helmets
Mandatory for the parade. The pilots will wear the same type of helmet as everyone else. No flight helmets will be worn (Cost, uniformity, and availability were all taken into consideration. Please do not ask about having flight helmets for the march.)
Scullcaps
As with the other Specialties, these are optional.
Red Berets
As with other Specialties, these are optional and must be shaved and shaped to specs in the 76th posts.
Scarf
Colored to match rank as in the other Specialties.
Vest
As with the other Specialties, the one made by the Colonel or made following his pattern, worn over flightsuit.
Patch Placement on the Uniform
Battalion and Independent patch will be worn. Independent on right shoulder, 76th on left shoulder.
Wing patch will go under Independent patch.
Rank Insignia
Will be worn on the collar of the flight suit.